Pandemic Map of Turkish Municipalities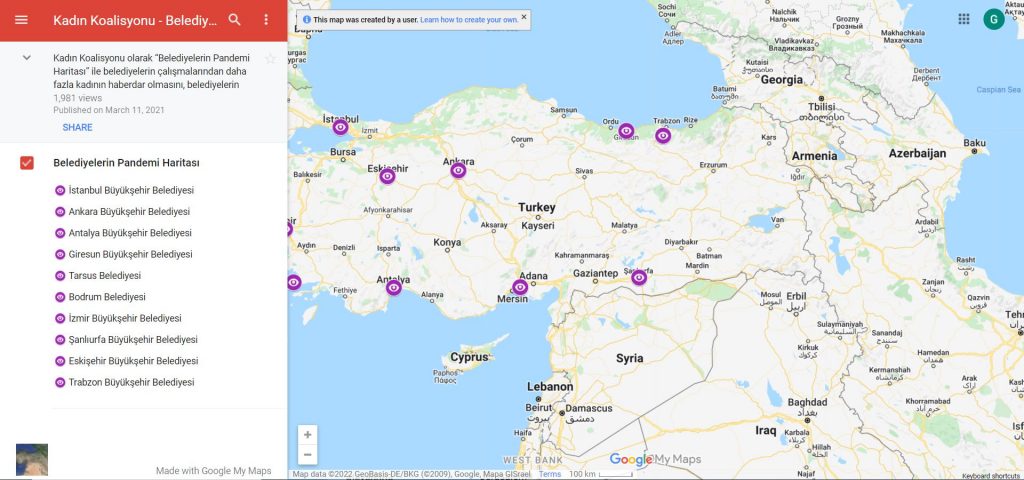 To alleviate the impacts of COVID-19 policies, many initiatives have been developed by civil society organisations – NGOs, local governments, or citizens. A team of national researchers from the RESISTIRÉ project has collected and highlighted a set of particularly relevant initiatives in 27 European countries and in Iceland, Serbia, the United Kingdom and Turkey. The initiatives currently cover eight specific domains: gender-based violence, the labour market, the economy, gender-pay and pension gaps, gender care gaps, decision-making and politics, environmental justice, human and fundamental rights.
Mapping key areas of municipal services
The Women's Coalition started to monitor the gendered impact of the Covid-19 pandemic on the basis of municipal services and prepared the "Pandemic Map of the Municipalities."
In the first cycle, 30 metropolitan, provincial, and district municipalities have been evaluated in 12 key areas including:
participation in decision-making and other processes (from a gender+ perspective with women, LGBTIQ+, and elderly as the main focus);
dissemination of key information

(regarding support services and legal rights with respect to GBV and other relevant rights);

food-goods-hygiene packages delivered to vulnerable women;

economic support;

housing support;

mobility-access support;

culture-arts-sports services for women, children & youth;

gender-based violence support services (including shelters);

access to health;

care support, support for other species living in the municipality (i.e. animals, e.g. feeding street dogs, cats, etc.);

institutional mechanisms for gender-equality (for municipality staff)
Creating a Pandemic Map
The results of the first monitoring cycle have been made public on a map. Women's Coalition also shared questions posed in this study for monitoring the municipalities as well as answers for each municipality. The map includes hotline phone numbers in each city to report gender-based violence.
With the "Pandemic Map of the Municipalities," Women's Coalition aims to make more women informed and make use of the services provided by the municipalities and encourage municipalities to see the varying problems and needs of women and provide services accordingly, rather than adopting a one-size-fits-all approach. The second cycle of the initiative started in December 2021 and is still underway.