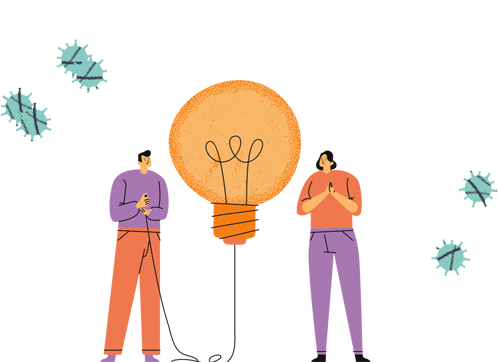 RESISTIRÉ's pilot projects
RESISTIRÉ is making a difference! We're funding a selection of pilot projects that aim to reduce the impact of the pandemic on vulnerable groups, in specific domains.
INCLUSIVE SCHOOLS – Engaging parents of vulnerable youth
ROMEDIA, Hungary
CARE FAIR – a school-based wellbeing event
NEVYPUSŤ DUŠI, Czech Republic
Engaging with Gender-based violence Through Sports
ATINA, Serbia
Exhale: Moving Through Secondary Trauma Together
Chayn, UK
GREEN SPACES AS AN ECOSYSTEM OF CARE
RESISTIRÉ supports two pilot projects transforming green spaces into an 'Ecosystem of Care' through the development and implementation of programmes that make all users, and in particular vulnerable groups, feel welcome and able to access green spaces.
Parc de l'Espanya Industrial: aquí (Spain)
aquí is a social innovation collective based in Barcelona that collaborates with citizens and local organizations to create a more equitable, sustainable and healthy city.
Triester Neighbourhood: Transition Graz (Austria)
Transition Graz aims to transform Graz into a transition city that is both future-proof and, in global terms, fair.
EMPLOYERS WHO CARE
 RESISTIRÉ supports projects contributing to the positive transformation of the homecare sector and the working conditions of domestic workers by mobilising "committed" employers as key actors of change and allies of domestic workers.
Allied Employers: SOS Racismo (Spain)
Allied employers is a project that consists of creating spaces for meetings and dialogue between migrant domestic workers and employers -single elderly people or families with care needs- in Gipuzkoa.
CARING WORKSPACES
RESISTIRÉ supports projects co-creating caring workspaces promoting inclusiveness, diversity, safety and care for employees at all levels, also responding to the new challenges posed by the pandemic and the increase in teleworking.
Creating Caring Workspaces: Postane and Hafıza Merkezi (Turkey)
During this one-year project, Postane and Hafıza Merkezi will conduct desktop research, create a comprehensive checklist and carry out a communication campaign for the promotion of caring gender+ workspaces.
RESISTIRÉ is a 30-month project funded by EU Horizon 2020, designed to better understand and mitigate gender and other inequalities caused by policy responses to the COVID-19 pandemic. After collecting and analysing policy responses and related data from a gender+ perspective, the project has worked to translate them into operational insights and co-created solutions, to mitigate the negative and unequal impacts of emergency policies.
These insights were produced through a co-creation phase consisting of an action-oriented analysis carried out by researchers and civil society stakeholders who worked together in "Opens Studios", a means to design policies and innovative solutions in a participatory way. During these thematic workshops, participants depicted possible improved scenarios to current social situations analysed in a first stage. These "Better stories", pathways for improved social situations, form a basis for developing concrete actions, namely through a set of pilot projects.