An Equity Audit to measure the impact of the pandemic on young people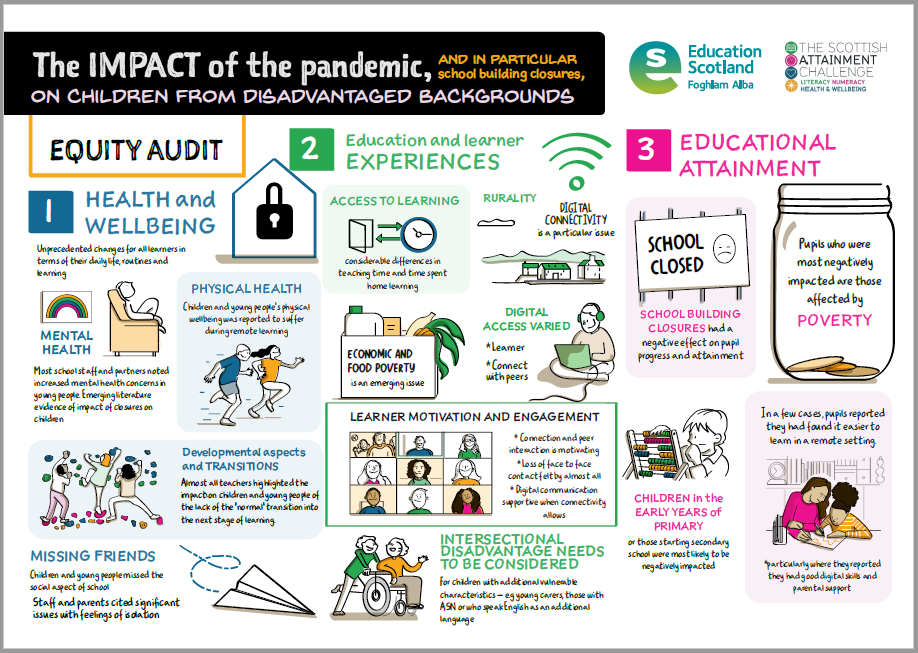 To alleviate the impacts of COVID-19 policies, many initiatives have been developed by civil society organisations – NGOs, local governments, or citizens. A team of national researchers from the RESISTIRÉ project has collected and highlighted a set of particularly relevant initiatives in 27 European countries and in Iceland, Serbia, the United Kingdom and Turkey. These Better Stories currently cover eight specific domains: gender-based violence, the labour market, the economy, gender-pay and pension gaps, gender care gaps, decision-making and politics, environmental justice, human and fundamental rights.
This Better Story was collected by Claire Stovell, Charoula Tzanakou, Alexis Still, and Anne-Laure Humbert. 
An Equity Audit to understand the impact of the pandemic on young people
On 20 March 2020, the Scottish Government decided to issue a statement, advising that schools should close to prevent the further spread of the COVID-19 virus. This led to (even more) educational difficulties for children and young people from socio-economically disadvantaged backgrounds. To respond to these issues, the government announced the implementation of an Equity Audit that would "deepen [their] understanding of the impact of [the pandemic] on children from disadvantaged backgrounds, and set clear areas of focus for accelerating recovery". To compile this Equity Audit, Education Scotland (the educational body of the government) cooperated closely with teachers' unions and got their extensive input on the new or worsened issues that disadvantaged children and young people faced during the pandemic.
The audit was undertaken through two complementary phases from September to November 2020: 1) an evidence review of local, national and international literature and 2) a detailed analysis based on a sample of 54 schools across all 32 local authorities.
Two sketchnotes to illustrate the key findings
Education Scotland released their equity audit near the end of 2020, containing findings and support recommendations that were thoroughly informed by the experiences and input of teachers and teachers' unions.
Five key themes emerged from both the evidence and lived-experience, highlighting the need to focus on the following in the context of intensified support for learning:
I. Health and wellbeing support
II. Digital infrastructure and connectivity
III. Support to parents and families
IV. Teaching provision and the quality of learning
V. Support for teachers and the wider workforce
Two sketchnotes have been produced to help share the key findings. The first focuses on the impact school building closures has had on children and young people and is organised in three areas: health and wellbeing, education and learner experiences, educational attainment (see above). The second illustrates the support available for children, young people and their families to mitigate the impact of COVID-19 (see below).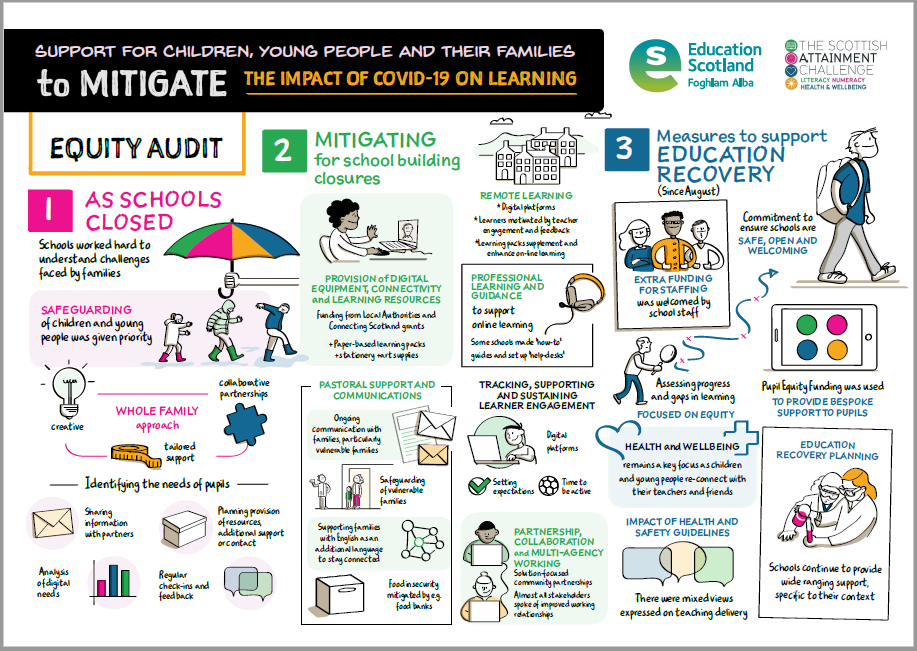 Images by Education Scotland Foghlam Alba & The Scottish Attainment Challenge