Creating Safe Digital Spaces webinar
Watch the recording now
 In a crisis situation such as the recent pandemic, digital technology can mitigate or even solve many challenges. However, at the same time, the ever-growing importance of the internet and its dynamic spread into the physical and social world are developments that have created new risks of experiencing digital violence and abuse. There is a striking lack of mechanisms – both on the European and national levels – for the prevention of online violence. Furthermore, there is a lack of accountability that persists at the level of tech companies and social media platforms, with no real consequences for facilitating widespread online abuse and harassment. Continuously increasing incidences of digital gender-based violence calls for raising the issue to a more prominent position.
During this webinar, we look at the gendered impact of COVID-19 on online safety. We discuss how to efficiently combat online abuse, reflect upon the prerequisites for creating safe digital spaces for everyone and listen to inspiring examples of good practices.
Panellists
Hera Hussain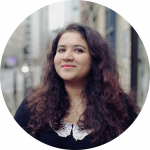 Hera is the Founder and CEO of CHAYN – a global nonprofit that creates resources on the web to address gender-based violence. Chayn's multi-lingual resources, designed with not for survivors, have reached more than 500 000 people. Raised in Pakistan and living in the UK, Hera knew from early on she wanted to tackle violence against women. She believes in using the power of open source technology, trauma-informed design and hope-filled framing to solve the world's pressing issues. Hera was on the Forbes 30 Under 30 and MIT Technology Review's Innovators Under 35 list.

Shanley Clemot McLaren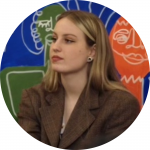 Shanley is the co-founder and co-president of the NGO StopFisha, which fights against cybersexism and sexist and sexual cyberviolence in France and across boarders. "#StopFisha" was created when Shanley witnessed a surge of image based sexual abuse during the April 2020 lockdown and many people from all parts of France joined the fight. StopFisha is now recognised as a NGO, with 12 co-founders and more than 70 members. Last year, they published a book Association Stop Fisha : Combattre le cybersexisme and continue working on: 1) Actively reporting accounts 2) Prevention and raising awareness 3) Supporting victims with the help of psychiatrists and our lawyer 4) Lobbying for effective policies.
Gabriela de Oliveira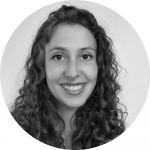 Gabriela is Head of Policy Research and Campaigns at Glitch, a charity based in the UK working towards ending online abuse. Gabriela's work focusses on the experiences of Black women and other marginalised groups. She has a keen interest in participatory approaches to policy, design and research work, given the power of these approaches to put equity and ethics at the heart of her work. The current EU policy around cyber-violence and AI are key to Gabriela's role as well as working on current legislation of the Online Safety Bill in the UK. Gabriela has almost a decade's experience working in the non-profit sector and speaks English, French, Portuguese and some Spanish, meaning she's always looking to collaborate across borders where possible.
Webinar agenda
11:30 – Welcome and introduction of the webinar topic
11:45 – Panel presentations:
Hera Hussain (Chayn)
Shanley Clemot McLaren (StopFisha)
Gabriela de Oliveira (Glitch)
12:20 – Introduction of the RESISTIRÉ recommendations
12:40 – General discussion and Q&A