Older people's rights are regularly undermined and that has been exacerbated during the Covid-19 pandemic. Safeguarding their rights and dignity is essential. The self-determination and autonomy of older people should be ensured everywhere (in care, on the street, in the family, etc.) and should not be limited by a paternalistic vision: older people should be supported to take their own decisions. In particular, the pandemic has shown that based on the assumption that older people should be protected, it has been decided for them that they should not "take risks", e.g., by taking care of their grandchildren, going shopping, or meeting other residents of the nursing home.
Raising awareness through the "Right(s) now!" game
These cards are based on the observation that older people are not sufficiently aware of their rights, as well as those who feel responsible for protecting them.
Against this background, the RESISTIRÉ project has developed a game based on postcards, to raise awareness among different groups (older people, professionals in the care sector, people in charge of safeguarding rights, young students) on the human rights of older people, how to access support, and how to prevent situations like those observed during the pandemic from happening in the future, even in the absence of crises.
As RESISTIRÉ aims to find sustainable solutions to inequalities and strengthen societal resilience to outbreaks, each card provides insights as well as recommendations, including examples of solutions relating to the specific situation introduced in the card. All policy recommendations produced over the 30 months of project activity can be viewed here.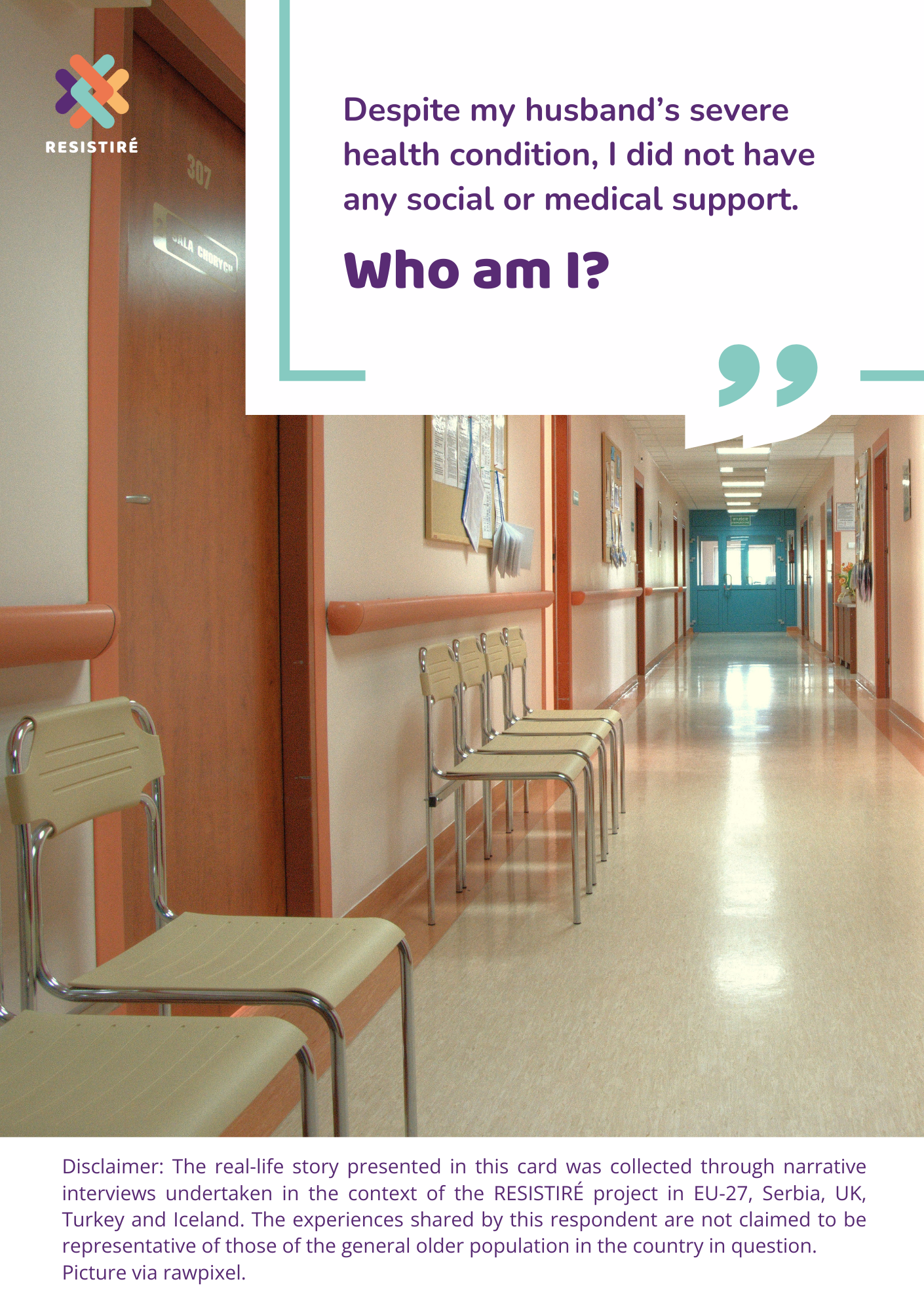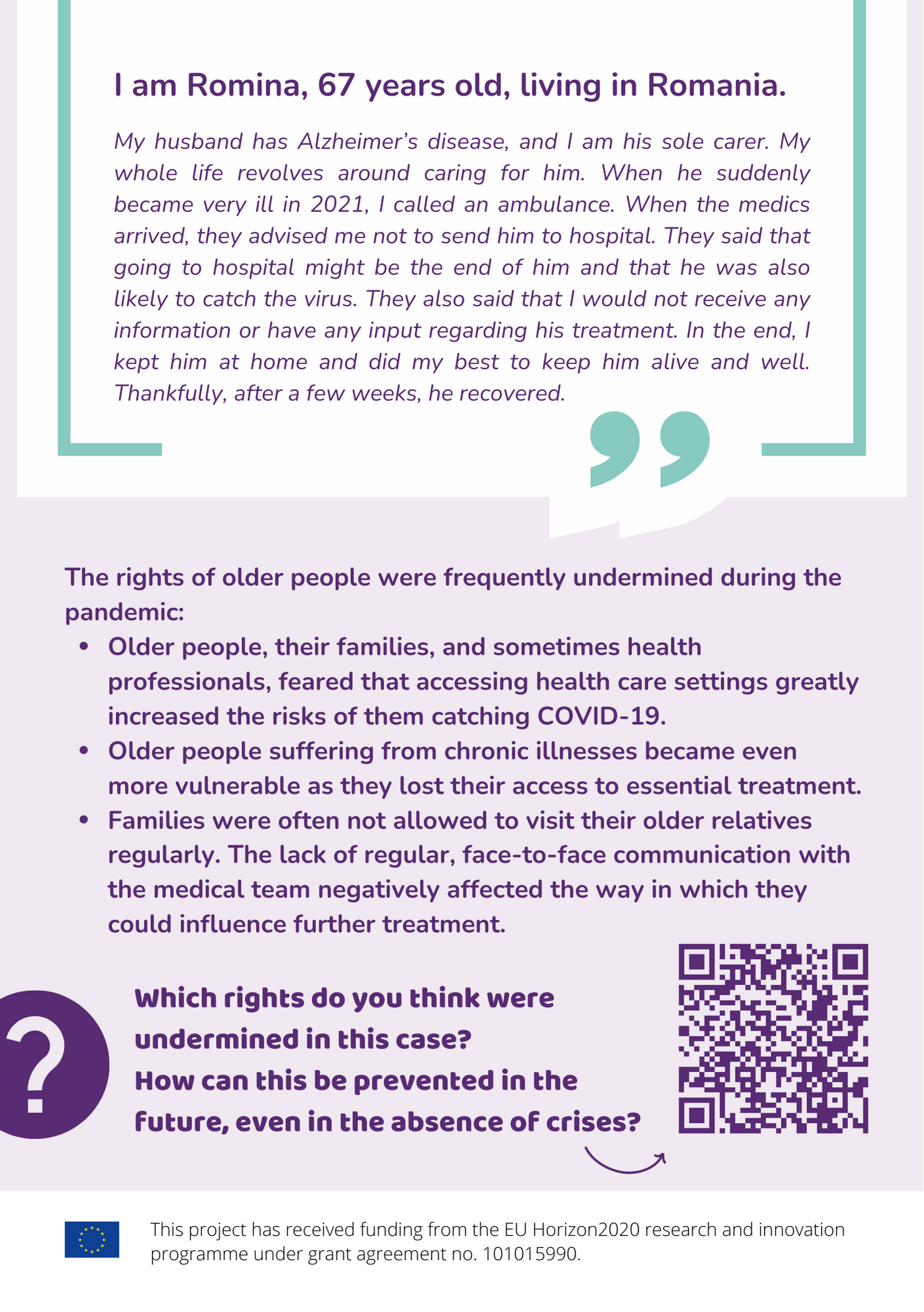 How does it work?
Each postcard has two sides:
1. The front side presents an emotion together with an image and the question "Who am I?". This is intended to spark the discussion, where players can engage in guesswork.
2. The back side contains a narrative that describes a particular experience associated with the clues provided in the front side of the card. This is followed by a list of facts leading to the violation of the rights and freedoms of older people during the Covid-19 pandemic. Drawing on this information, this second part of this game consists in:
discussing the specific rights and freedoms being breached in relation to the particular case being presented, based on information provided in a QR code inserted in the back side of the card;
discussing how this situation could be prevented in the future.
The QR code displayed at the back of the card links to more information on the rights of older people as well as recommendations provided by the RESISTIRÉ project team, including examples of solutions relating to the specific personal situations introduced in the cards. 
What next?
The "Right(s) now!" game cards can be printed out by anyone and can be used, for example, for a discussion in a nursing home, as a side activity of a senior activity, or as a resource in an educational context. The game can be further developed to be adapted for use in different contexts and for different target groups e.g., in the training of the police, social workers, nurses, help-carers, etc.
12 cards are available as in a PDF document that can be easily printed in A4 format. Simply fold/cut them in two and glue both sides to start using them!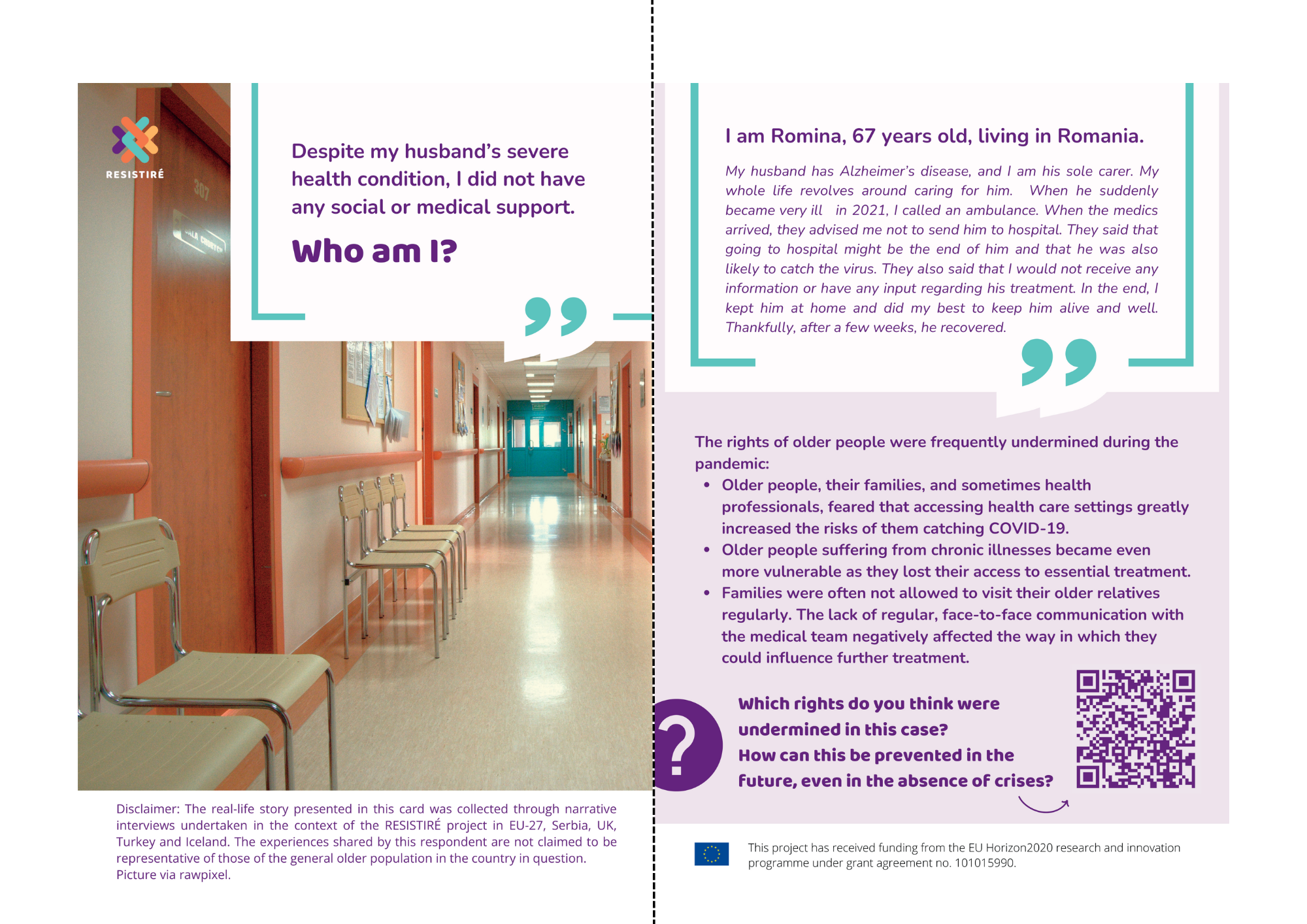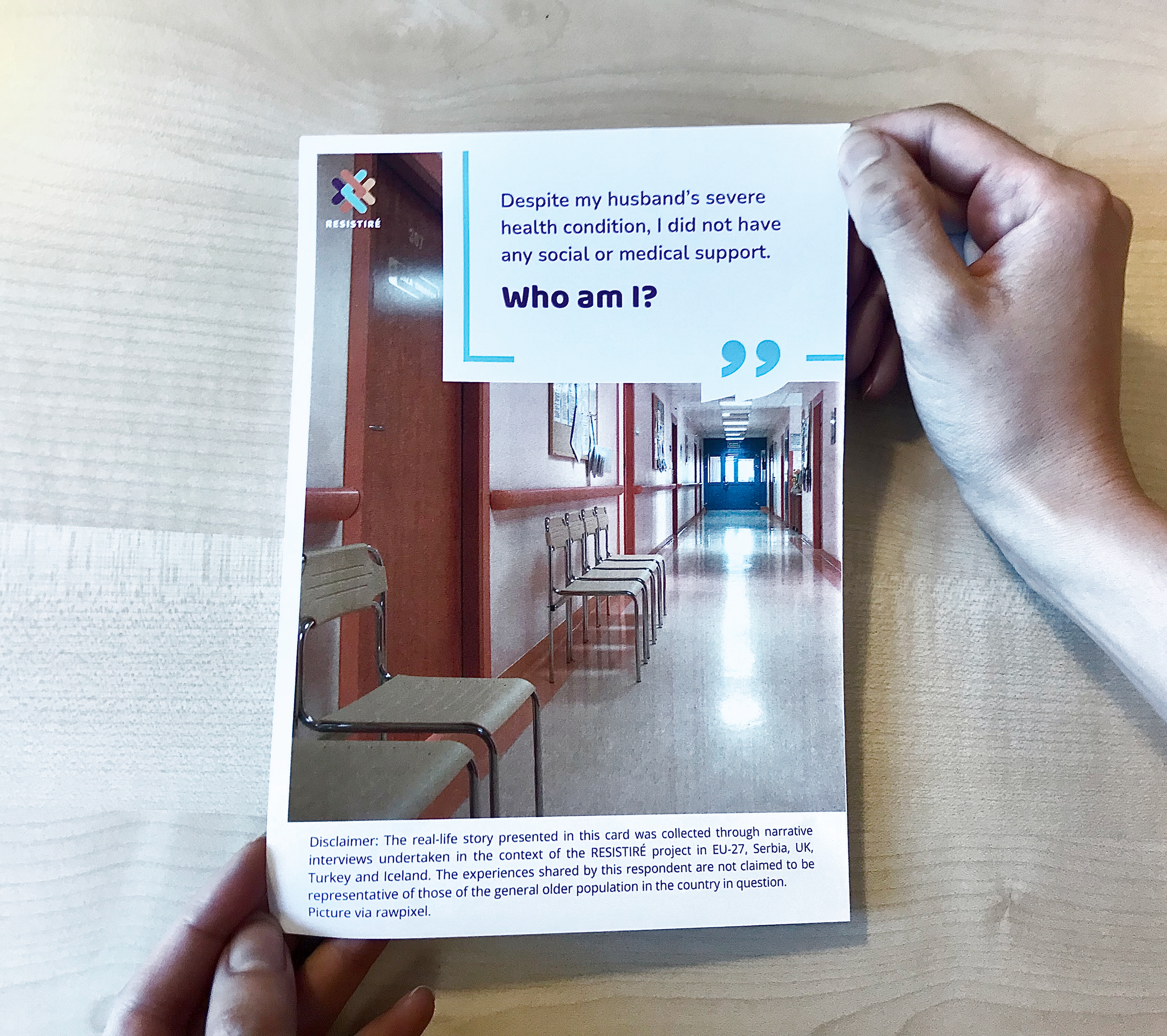 Find out more!
RESISTIRÉ is organising a webinar on 26 September to:  
introduce the game to NGOs working with and for older people to promote and safeguard their human rights and dignity; to professionals in the care sector; and to equality bodies in Member States; 

 

reflect on lessons from the COVID-19 pandemic on how to prevent the undermining of older people's human rights in future crises;  

 

discuss the potential uses of the game in different settings.    

 
Panellists

Mary Harkin (Age and Opportunity, Ireland)
Mary Harkin is Policy, Research and Evaluation Manager in Age and Opportunity, the national agency seeking to challenge ageism and increase participation of older people in the areas of in the areas of arts, sport and physical activity, lifelong learning and civic engagement.   Age & Opportunity's research and evaluation output has made an important contribution to the understanding of how to increase participation of older people in Irish society and inform government policies, actions and communications to this end.  Mary has worked with many universities and researchers on research projects that are of interest to older people and has established a PPI group of older persons to engage with and advise researchers on projects relevant to the work of Age & Opportunity.

Alice Delerue Matos (Institute of Social Sciences, University of Minho, Portugal)
Alice Delerue Matos, PhD, is an Associate Professor in the Department of Sociology at the Institute of Social Sciences, University of Minho, Portugal. Throughout her career, she has actively contributed to various academic organizations, including the International Association of French-Speaking Sociologists, the Portuguese Sociological Association, and the Portuguese Demographic Association, where she has held board or scientific coordination positions. Her research primarily focuses on the Sociology of Aging and Demography, areas in which she has served as a principal investigator or scientific advisor for numerous research projects, such as SHARE-Portugal, under her coordination for more than a decade. Her research was funded by esteemed institutions such as the European Commission, Foundation for Science and Technology (FCT), Calouste Gulbenkian Foundation, Erasmus+, POI SE, and MSD. Alice Delerue Matos has authored and co-authored over one hundred ISI articles and book chapters in collaboration with international research teams. She was honoured with the Teaching Merit Award by the University of Minho. Additionally, three of her intervention research projects have received Good Practice Awards.

Bibiana Savin (Sage Advocacy, Ireland)
Bibiana Savin is the Case Management & Support (Asst. CEO) with Sage Advocacy, an organisation that provides independent advocacy and support services to older people, vulnerable adults, and healthcare patients.  Bibiana has social work, sociology, business studies, and advocacy qualification and holds a Master of Social Science (Human Rights and Social Policy) from Maynooth University.  She completed additional training in Leading Strategic Projects Programme with Saïd Business School, and DIPEx International Accreditation with Nuffield Department of Primary Care Health Sciences, University of Oxford.  Bibiana is a Patient and Public Interest (PPI) Representative on a number of national forums such as the National Office for Clinical Audit, HSE Patient & Service User Forum, and the Emergency Department Taskforce. She is a member of the HSE Assisted Decision Making Transitional Oversight Group and the HSE Mental Health Engagement & Recovery Subgroup for Sharing the Vision Recommendation 65 Project.  Bibiana is also a member of the Irish Gerontological Society Executive Committee.

Colin Scott (Hourglass, Scotland and Northern Ireland)
Colin Scott works for Hourglass, the UK's only charity dedicated to calling time on the harm, abuse and exploitation of older people, and promoting safer ageing for all.  Hourglass operates a free-to-call*, 24/7 helpline that is free to use from a UK landline or mobile, and delivers 1-1 support to older victim-survivors aged 60 and over.  Colin is responsible for service delivery in Scotland and Northern Ireland, and started working with Hourglass days before the UK's first national COVID lockdown in March 2020.
Provisional programme
12.00 Welcome and introduction to RESISTIRÉ, the webinar and its objectives 
12.10 Introduction to the flashcards 
12.30 Panel with representatives of civil society organisations
13.00 Reflection and discussion
13.25 Final remarks and conclusion
13.30 Close
Join us on 26 September to find out more and discuss the concept!